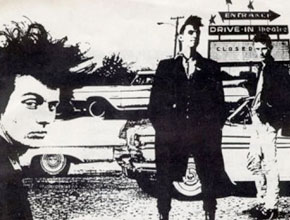 Sometime in 1982 or 1983 in Manchester's Hulme district The Inca Babies were formed. Hulme, a concrete, deck access 'streets in the sky' projects, was at that time a demi-bohemia over run with artists, musicians, students, addicts and 'ne'er do wells'. Previous tenants, mainly families, put there to benefit from this 'magical new living space', realising a slum was a slum regardless of how high off the ground you put it, had long gone.
At the time Manchester music was gripped by a schizophrenic Jazz funk scene which was emulated by the 'indie' scene's own approximation with its 'jangly, dancy' pop. In this climate The Inca Babies had no choice but to come up with their own sound. What resulted was a Raunchy Death Ray twang from a punk-trash, Americana perspective. Link Wray, The Cramps, The Gun Club and The Birthday Party were the spirit guidance, and a big influence. But, because the Incas were an obscenely English band impertinently playing out of their continent, people didn't get it at first. However musicologist C.P Lee in his book on the Manchester music scene must have spotted something when he called them the 'Hulme Cramps'. So indeed, must Radio 1 DJ John Peel and his producer John Walters. They took one listen to the first single The Interior and offered them a session on the spot. It was to be the first of four they did for Radio 1 between 1984-87.
After this there was a frenzy of bookings for their rowdy live shows. No Cub Scout hut was too small or warehouse too large. Within a year they had been to every borough and city in the land, usually at the stick carpet end of town, and a fan base had gathered across the UK. With 2 number one slots in the Indie single chart and a top 5 album, Rumble, the Incas soon began to find an audience abroad. Tours of Mainland Europe included Germany, Holland, Belgium, France, Yugoslavia, Hungary, Austria and all of Scandinavia.
Three further Albums (This Train, Opium Den and Evil Hour) were released including six more singles all experiencing good sails and chart places. During this time while popularity was not a problem keeping personnel was, and while singers and drummers came and went the backbone of the band who played every gig and appeared on every record, Bill Marten (bass) and Harry Stafford (guitar, later Vocals) struggled to keep the integrity of the band alive.
An end came when there were no more singers and no more drummers. By the late 80s acid clubbers raved through the night and there was no place for the Incas. But by this time we'd joined them anyway.
But then in 2006 The Incas released the 'Best of' compilation Plutonium, and like a supererogatory snow ball things ran on seeing the band reform in 2007 with GoldBlade drummer Rob Haynes the new occupant of the drum kit, and comeback gigs in Munich and Manchester proved that the Incas tale was set to burn.
However that tale has again taken a back seat following the untimely death of Bill Marten (1960-2008).
The Inca Babies
2007 – 2008: Harry Stafford (guitar, singer), Bill Marten (bass), Rob Haynes (drums).
1983 – 1987: Harry Stafford (guitar, singer), Bill Marten (bass), Alan Brown (drums), Julian Worapay (singer), Pete Bogg (drums), Mike Keeble (singer), Darren Bullows (guitar), Johnny Scarles (drums), Tony Clarke (drums) Paul Morley (drums) Coofy Sid (drums), Kirsten Bechhofer (Muscle) and Chris Lee (Manager).
Their Myspace page here.