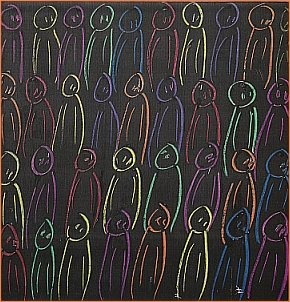 The Great Leap Forward is a "band" formed in 1987 by former bIG*fLAME singer and bassist Alan Brown when that band came to its planned and logical end in 1986.
The Great Leap Forward was and still is essentially a solo project, with Alan writing, arranging and performing virtually all instruments on recordings, and carrying out mixing and production in the studio in conjunction with John Crossley at SquareDance Studios (Nottingham/Derby) for the majority of the pre-1990 releases and since 2008 with Anthony Chapman for Finished Unfinished Business and This Is Our Decade Of Living Cheaply And Getting By.
Freed from the restrictive musical philosophy and practice that epitomised bIG*fLAME, Alan was able to flourish musically and develop The Great Leap Forward into a much more melodic and danceable proposition, yet still retaining the bIG*fLAME quirkiness and attitude/ethos – with overtly political lyrics and social commentary, working under the mantra of "don't be afraid of change, it's right to rebel".
The first three 12" EP releases Controlling The Edges Of Tone (April 1987), A Peck On The Cheek A La Politique (Nov 1987), and Who Works The Weather (April 1988) were released through Ron Johnson Records (Independent label of the year 1986), leading to two John Peel sessions and some critical acclaim, but following the collapse of Ron Johnson in 1988 Alan formed Communications Unique in partnership with Jon Sargeant (bass player in Twang) as a vehicle for The Great Leap Forward releases.
A demand for live performance saw the recruitment of Eileen Cox (keyboards) and sister Maureen Cox (backing vocals, percussion) with Nobby Normal (a Roland TR707 drum machine) holding the beat alongside Jon on bass, and gigs taking place across northern Europe and a UK and Irish tour supporting That Petrol Emotion.
The Great Leap Forward's debut album Don't Be Afraid Of Change (April 1989) – delayed by the demise of Ron Johnson – became the first release on Communications Unique and achieved widespread critical acclaim at the time:
"A powerful debut album that spills shards of discontent plastic all over the floor"
"A cross-cultural left-of-field one-headed dance monster"
"An album full of guts, wit and revolutionary vigour"
"Never has the term "exciting" been so well positioned as on this exciting album"
With the development of the Communications Unique label, the formation of the live band and the media response to the LP, Alan felt the need to turn down an offer from That Petrol Emotion to join on bass to concentrate instead on promoting and supporting the release of the new LP.
Following on from Don't Be Afraid Of Change, Alan and Jon looked to bring the previous Ron Johnson releases into the Communications Unique fold with the release of the SEASON 87-88 singles compilation LP in 1989 – the purpose to give releases which had suffered from the RJ demise – such as the Who Works The Weather? EP some decent exposure. This LP also included the previously unreleased track (When It's) Cold In Summer.
This was swiftly followed by the release of the 12″ EP Heart & Soul (Nov 1989) and the CD compilation Great Leap Forward – again a "taster" for newcomers to The Great Leap Forward, which combined tracks and some unreleased mixes from Don't Be Afraid Of Change with the Heart & Soul EP.
However disaster was to strike again with the demise of Revolver Distribution at the crucial moment of release and both Heart & Soul and Great Leap Forward lacked the necessary support to give them the promotion and publicity they possibly deserved – particularly the track "Heart & Soul" which was Alan Brown's most "musically accessible" and commercial song to date. Communications Unique could no longer continue as a viable concern in the circumstances, and so Alan Brown and Jon Sargeant called it a day, leaving the planned Spring 1990 release Tolerance & Respect – a six track mini LP – on the shelf to gather dust.
By this time, Alan Brown was also working at SquareDance Studios as an engineer and moved permanently to Nottingham from Manchester in 1990. Working in a studio environment allowed Alan some freedom to further experiment musically and look to complete the six songs planned for the Tolerance & Respect mini-LP – with hope of getting it released through another label.
However, these songs never got beyond work-in-progress stage as Alan – already disillusioned with the music industry became increasingly more so and, after a short spell as an in-house lighting engineer with Squaredance's R&B hot prospect Wycliffe, he left music in 1993 to follow a more personally (and financially) rewarding employment in education.
That's not to say Alan never picked up his guitar in anger from that point until today. He joined avant-garde three-piece Melodia on bass (NB: have a listen his cover of their song Lunar on Finished Unfinished Business), and the summers of 1994 and 1995 saw journeys to the south of France to play with close friends in bands Lick and Bandalick – playing open air gigs for the predominantly French holiday makers with a mix of home written songs and covers. This was followed by regular gigs with the laid-back acoustic trio Fantastic Shoes in Nottingham pubs from the late 1990's.
The road to some sort of substantial musical re-awakening took place from 1997 onwards in "veritable Manc C86 supergroup" Marshall Smith, with old friends Vince Hunt (A Witness, Pure Sound) on bass and Daren Garrett (ex-Pram, The Nightingales) on drums. This irregular meeting of minds eventually culminated in the release of the Colours CD in 2006 and Vince and Alan still harbour plans to work on a second Marshall Smith CD at some point before they die.
Meanwhile during all that time, lurking in the background like a nagging headache, the bunch of songs and ideas from 1990-1993 that Alan Brown never got beyond demo stage still persisted – the unfinished business…
The stimulus to finally revisit these songs and get them finished came about as Alan ultimately rediscovered an interest in producing music – most likely brought on by the nostalgia generated by the untimely death of John Peel in 2004, the fun of recording and releasing the Colours CD, the 20th anniversary of C86 in 2006 (bIG*fLAME being one of the bands on this legendary release), and of course the rise of the scratchy guitar influence-on-sleeve genius that is Sarandon. All supported by a relative contentment brought about by Alan moving back to live closer to family and roots.
So, from 2006 Alan Brown worked  fastidiously on getting those songs together, arriving at a point in the autumn of 2008 – seventeen years later than originally planned – where The Great Leap Forward finally had a new release: Finished Unfinished Business – 11 previously unreleased tracks, available as CD with 12 page booklet or as MP3 download from this site. You can listen to some tracks here and buy the CD or download mp3 here.
To compliment the new release,The Great Leap Forward back  catalogue contained within the Great Leap Forward CD and the re-mastered SEASON 87-88 LP was made available as mp3 downloads from this site – you can buy them here.
And it's during this that time Alan inevitably and subsequently joined Sarandon on bass, playing live and on recordings since 2006 – all that can be found here , where a good time was had by all and still could be …(Sarandon are in respite at the moment as despotic leader Crayola is busy changing mindsets in the World of Ale through his Campaign for Really Good Beer (CAMRGB)…)
Following on from the release of Finished Unfinished Business in 2008 – and following on from the near collapse of the World Order and Capitalism as we know and love it – Alan Brown has been working on a new CD This Is Our Decade Of Living Cheaply And Getting By, in which recent global and national events (and more) are analysed, discussed and commented on in some detail within the 13 songs on the CD. You'll be pleased to know that they are all delivered in the same endearing style and fashion that we have come to know and put up with over the years.
This release is now available – you can read more about it on the home page, and you can listen to some tracks here and buy the CD or download mp3 here.
Rumours that Alan Brown is preparing an acoustic set of songs from his chequered past are totally unfounded.
You made your contribution, and I want to say: thankyou.
Helvetica Halbfett
May 2012
Communications Unique
THOROUGHLY SOUND PRODUCTS
The Great Leap Forward: the period in human prehistory some 40-60,000 years ago when there was a "great leap forward" in the mental capacity of homo sapiens that allowed the development of abstract thought, the use of symbolism and technological innovation.