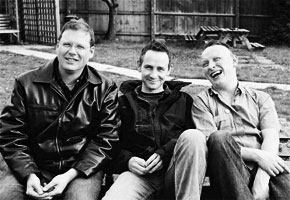 Marshall Smith is a long-term low-output venture in the musical lives of ex-A Witness bandmates Vince Hunt and Alan Brown. With the addition of fearsome ex-Pram and now-Nightingales drummer Daren Garratt, they produce melodic pop with an edge: driving drums and percussion, solid bass foundations and soaring guitar riffs.
Marshall Smith write tuneful and memorable pop songs, powered by Hunt's driving bass and Garratt's ferocious drumming. One reviewer (Simon Goddard in Uncut, October 2006) called them 'a veritable C-86 Manc supergroup'.
Most of their first album, Colours, was recorded in Stockport, Northern England, over Christmas and New Year 2005 in a studio next to an earthmover hire company. Three songs – "Colours", "Slump On The Liko" and "Our Little Secret" – were put down in a tiny studio underneath a timber yard in Nottingham . But these boys can record anywhere and make it sound good.
Marshall Smith's MySpace page is here.
Euphonium Records are currently unavailable so email us for further information regarding the Colours CD and we'll see what we can do.