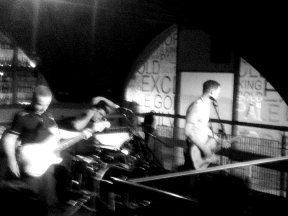 There was something almost fatalistic about it. A diehard fan of Big Flame and The Great Leap Forward, Crayola, formed a band called Sarandon in an attempt to emulate the snappy, no-nonsense pop of his many and various heroes. He even called one of Sarandon's releases "The Big Flame", for goodness sake. Talk about wearing your influences on your sleeve.
After a series of unfathomable coincidences – or maybe he was just asked nicely – 2007 saw Alan Brown take over bass duties in order to show Crayola how it was done. And show him he did. A recent album out called Kill Twee Pop proves this, as does an EP called Other People's Records too.

You can get these through Slumberland Records, along with the most recent release Sarandon's Age Of Reason through Slumberland or Oddbox Records. This release even had a beer brewed specially for it by Revolutions Brewing Co..
The Sarandon website can be found here.