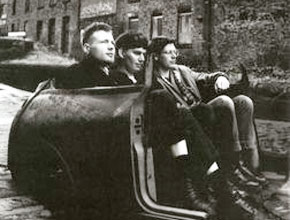 Working on the fringe of independent music, based in Manchester and known for their intense, individual style, the core of A Witness was Rick Aitken (guitar), Vince Hunt (bass, lyrics) and Keith Curtis (vocals). Initially a drum machine band, they released a 12″ EP "Loudhailer Songs" in November 1984, which went straight into the NME independent chart; an LP, "I Am Johns Pancreas" did likewise, and the insistent swing of the track "Sharpened Sticks" was included on the legendary NME C86 cassette.
Alan Brown was drafted in on drums to replace the drum machine in late 1986; eight songs were written which spanned the band's third and fourth sessions for John Peel – both of which appeared on the Double Sessions CD released by Strange Fruit in 1989; studio versions of some of the tracks made up the 4-track 12″ "One Foot in the Groove". The band's records seemed to sell out quickly, and then fall victim to either recession, or record company incompetence –or both – and after another European tour, Alan Brown left to concentrate on The Great Leap Forward, and was replaced by Tris King, formerly of Bogshed.
After another wonderful single, "I Love You Mr Disposable Razors", tragedy struck when Rick Aitken was killed in an accident while climbing in the Scottish Highlands. An imminent tour supporting The Wedding Present, was cancelled, and the band members subsequently moved onto other projects: Keith Curtis joined The Membranes as guitarist, and was later a founder member of Goldblade along with John Robb. Vince Hunt formed Marshall Smith with Alan Brown and drummer Daren Garratt and is currently engaged with his soundscape project Pure Sound.
You can read more about A Witness here.
At the moment Euphonium Records are unavailable. Email us if you are interested in A Witness products and we'll see what we can do.