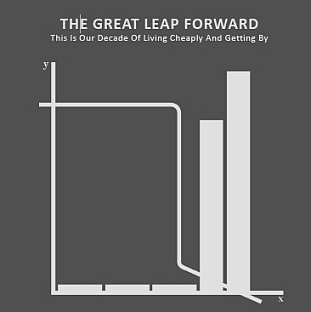 ---
"This Is Our Decade Of Living Cheaply And Getting By"
Most recent release (2012) on CD and download
Listen to song excerpts here ……….buy the CD and/or MP3 downloads here
We're saying:
"Batten the hatches and tighten your belts (again)
Paying the price for the failures of laissez-faire"……..so read on:

"The naive and incoherent ramblings of a middle-aged dweeb"
Alan Brown returns in his solo guise as The Great Leap Forward to deliver another healthy dose of incisive political and social commentary, layered on top of his trademark melodic danceable guitar pop music in this expansive 13-track CD and mp3 download "This Is Our Decade Of Living Cheaply And Getting By".

We're back on familiar ground as the former bIG*fLAME singer responds to the last few years of global and national economic instability in a classic yet tougher The Great Leap Forward style, typically covering a range of musical genres and getting stuck in to those who are certainly not working in the national or global interest but generally for their own interests – all delivered in that familiar and life-affirming fashion that we've come to know and care for.
Brown continues to provide pertinent observations on life from his side of the street through these rich and diverse songs, from the attacking "Race To The Bottom", "Capital Is Wonderful" and pop classic "Tax The Richer" to the reflective and poignant "I Catch The Last Bus Home With Driver Of The Flying Scotsman". Then there's the songs of hope and optimism, such as "Turning Difficulties Into Goals" and "This Is Our Decade Of Living Cheaply And Getting By Reprise " – all guaranteed to get the mind thinking and the feet tapping.
Regardless of whether you're already familiar with The Great Leap Forward, or you're discovering this project for the first time, "This Is Our Decade Of Living Cheaply And Getting By" continues Alan Brown's distinctive appraisal of modern society through the medium of pop music that's as relevant for today's pop kids (and their parents and grandparents) as it ever was.

Helvetica Halbet
Communications Unique
Thoroughly Sound Products
---
2008 release:
Finished Unfinished Business CD and MP3 download
Communications Unique CU006

What they said…
Norman Records
"Alan Brown's back with 'Finished Unfinished Business' – a lesson in social politics set to anthemic New Order-esque pop with scratchy funk guitars, joyous keyboards and a pulsing drum track. .. . I think his vision is quite individual & life affirming and there's a great deal of quality tuneage on this album so if you want some edgy, hook filled songs to sing along to (you'll honestly feel like you know them like friends) give this a crack cos it's well good (but I'm a long running fan of this quiet pioneer so I would say that!!!)"
Kisschase.blogspot
"Finished Unfinished Business" is nowhere near being 'indie pop': instead, like the previous solo outings, the songs are polished, spattered with samples, keenly political and not infrequently funky…..the lyrics are as pertinent today, whether talking about (un)sustainable farming, the creep against civil liberties or the insidiousness of the capitalist work ethic…..as for Mr Brown, well he's still our hero."
Atomicduster
"The fact that John Peel was a fan of this artist speaks volumes, and you can see the appeal from the outset. Reminds me of late eighties Wire output, and after seveteen years of relative musical inactivity, Alan's Great Leap Forward is hardly that, but a wonderful slice of retro pie. Love this album, it's so accessible and invigorating, dare I say. Treat it gently and with kindness. If you want uplifting music, look no further than this. 9/10"
The Organ
"Finished Unfinished Business is eleven slices of socially aware 80's flavoured alternative indie pop that hints at lots of fine things without really sounding too uncomfortably close to any of them….rich enjoyable melodic danceable indie guitar pop with classic 80's synth undercurrents and everything done just right. Socially aware lyrics, songs that say something, and celebrations of those with sound ethical values – everything just spot on. Nothing else needs saying, just go enjoy it."
Subba-culcha
"Grown up, refined pop with synth twists and lyrical poetry throughout.
If being championed by the greatest of musical talent spotters John Peel wasn't enough Alan Brown had to produce album after album on his own, simply put, Alan Brown is The Great Leap Forward and 'Finished Unfinished Business' is just that….a return to form this album is a shimmering shining light of well produced and perfectly performed pop standards….his twist on every genre he attempts comes off with great aplomb. Enjoyable from start to finish it's a shame 'The Great Leap Forwards' break was this long with it being an undeniable return to form."
–
Our blurb:
Multi-instrumentalist Alan Brown (former member of John Peel favourites Big Flame, A Witness, amongst others) returned to his The Great Leap Forward musical project in 2008 with a scintillating new CD release Finished Unfinished Business.
The title of the CD tells the story of the release – all eleven songs featured were at incomplete "work in progress " stage when Brown decided to put The Great Leap Forward on hold in the early 1990's to pursue other interests.
Returning to update and complete those songs more than a decade and a half later, Finished Unfinished Business features a confident and assured Brown delivering trademark melodic and danceable guitar-driven tunes with those familiar social commentaries and politically overt lyrics – the quintessential mix that received such critical acclaim the first time around.
From the countering of the demonisation of young people in the pop opener Tolerance and Respect , through the support for land reform in developing countries in the rolling Wholesome Ways To Change The World and the only song yet known to be written in support of the ethical policies of the Co-operative Bank in the driving It's Our Business To Say NO to the reflective home area vignette of the pumping The Happiest People Under The Sun (Part 1) – Alan Brown wears his social conscience on his wide-ranging musical sleeve as only he can.
Regardless of whether you're already familiar with The Great Leap Forward, or you're discovering the band for the first time, Finished Unfinished Business sees the return of a distinctive appraisal of modern society through the medium of pop music that's as relevant for today's pop kids (and their parents) as it ever was.
You can listen to excerpts from some of the songs here and buy the CD and/or MP3 downloads here. Enjoy.
For other releases, go to the Discography page.
Alan Brown also plays bass in short and spiky indie popsters Sarandon, who you can find out more about here.